Dr. Hannah Macdougall

A dual Paralympian, and previous World Record holder, Hannah has captained the Australian Swimming Team at both a World Championships and Paralympic Games, and completed a PhD in Athlete Well-Being.
She has represented Australia on an international level since 2001 in numerous international, national and state competitions in both swimming and cycling.
When Hannah isn't training, she is an inclusion advocate, mindfulness and wellbeing 'pracademic' and senior advisor for community programs and campaigns at the Victoria State Emergency Service. 
Hannah is currently aiming to represent Australia at the 2021 Tokyo Paralympic Games in the Time Trial and Road Race.
You can follow Hannah's pursuits via her blog and her facebook page.
---
Liam Twomey
Elite Triathlete and Aspiring Tokyo Paralympian
It was only in 2016 that Liam learnt to swim, which led him to eventually to trying his first triathlon event in 2018. After Liam entered his first race, he knew he was hooked within 30 seconds.
Liam's chosen sport is Para-triathlon. He has catapulted through the ranks in his Para-category and based himself in Spain during the European summer in 2019, allowing him to train with some of the best Para-athletes in the world.
During this time Liam has competed in a number of ITU events, which resulted in qualification for the World Para Triathlon Championships in Lausanne, Switzerland. This event proved to be one of Liam's most successful races and he is more motivated than ever to continue his dream of making it to the Tokyo Paralympics.
Liam is an Ambassador for Start Foundation and is also available to be booked as a motivational speaker.
You can follow Liam's achievements via the Team Twomey page, and if you would like to support his goal to Tokyo 2021 by donating, you can do that here.
---
Kerryn Harvey
In 2013 Kerryn became an upper limb amputee after contracting a life threatening bacteria called necrotizing fasciitis following a bicycle accident. It was devastating news for a sports fanatic like Kerryn. Prior to her amputation Kerryn had been participating in many triathlons from Sprint distance to Ironman, Fun Runs from 5k to Marathon, and Cycle events from 20km to 2000km!
Following Kerryn's amputation she was determined to regain her fitness and health so Kerryn set about re-learning to ride, run and swim.  Although there have been many challenges along the way, Kerryn is now back competing as a Para-Triathlete. In 2015 she represented Australia at the World Para-Triathlon Championships in Chicago, winning a silver medal in her class, giving her number 2 ranking in the world.  An incredible achievement only 2 ½ years after becoming an amputee and almost losing her life!
Being fit and healthy and once again participating in sport has empowered Kerryn with the confidence to believe she can still achieve anything she wants to in sport and life.
Kerryn is also the founder of START foundation, assisting others with amputations to achieve their own sporting dreams.
---
Ross Mason
Ross made the decision to move to from sprint distance triathlons to the longer course triathlons; and has regularly completed the IronMan 70.3 event.
Ross competed in Geelong 70.3 doing his fastest time ever in the swim for that distance race and fastest bike & run.
He is always looking for a new way to push himself and planning his next Olympic distance race.
Ross plans on adding another bungee jump to his belt while in Cairns… adrenaline junkee, or what?!
You can follow Ross on his facebook page.
---
Glen Jarvis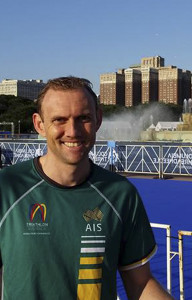 Glen Jarvis is an Australian Representative Para-Triathlete and you can follow his achievements via his facebook page.