David Lee Gow
Director
Principal Prosthetist, Dip.App.Sci (P&O), MSc (Rehabilitation)
David Lee Gow has over  32 years in the prosthetic industry in both Australia and United Kingdom.
David's involvement within the industry has developed an exceptional knowledge of upper and lower limb prosthetic treatment within the public and private sectors; providing Prosthetic Rehabilitation Services for clientele, participation in numerous rehabilitation courses, conferences and educational programs, including a 4 year Lectureship at the University of Salford, UK.
David's key interests are ensuring the maximum potential for all amputees, by providing appropriate prosthetic services, Osseointegration rehabilitation for amputees and the development of rehabilitation service models.
David is a Member of the Australian Orthotic & Prosthetic Association (AOPA)
Clinical Panellist for TAC and WorkSafe Vic.
Monique Van den Boom
Director
Senior Prosthetist, BP&O (Hons)
Monique's professional and friendly attitude drives her passion and motivation to work closely with clients to achieve excellent clinical and functional outcomes.
Monique graduated from La Trobe University in 2003 and has gained wide-ranging experience from employment in the UK and Australia, as well as volunteering with a non-profit organisation providing Prosthetic services in Haiti.
Working in both the private and public systems in Australia and overseas has exposed her to all aspects required to successfully treat clients across the full expanse of Upper and Lower limb prostheses and rehabilitation; including upper limb myo-electric, lower limb microprocessor, recreational and sporting prostheses.
Monique holds her continuing professional development in high regard by attending workshops, and presenting at numerous International and Australian conferences and seminars.
Monique is an active Member of the Australian Orthotic & Prosthetic Association (AOPA), and previously appointed on the Board of Directors.
Patrick Shinners
Prosthetist, B.P&O BMedSci
Patrick joined the team at ProMotion in May 2016 and brings with him experience from various Melbourne metropolitan hospitals as well as interstate regional clinics.  He has long considered himself to be in a privileged position as a Prosthetist and enjoys working with clients of all levels in achieving a return to function and independence after amputation.
Patrick is committed to challenging himself in both a clinical and technical capacity to ensure his clients receive a modern, tailored approach to their care. Patrick has a genuine passion for prosthetics and enjoys old and new technology alike, but strives to implement the latest advancements into his practice to the benefit of the client; be it in their everyday or recreational activities.
Having the experience of working through all phases of prosthetic care from pre-amputation, acute care, rehabilitation and lifelong follow-up, he now finds himself engaging all his skills and knowledge working with the client base at ProMotion. Patrick is based at both our Moorabbin and Epworth Hawthorn clinics.
Patrick is a Member of the Australian Orthotic & Prosthetic Association (AOPA).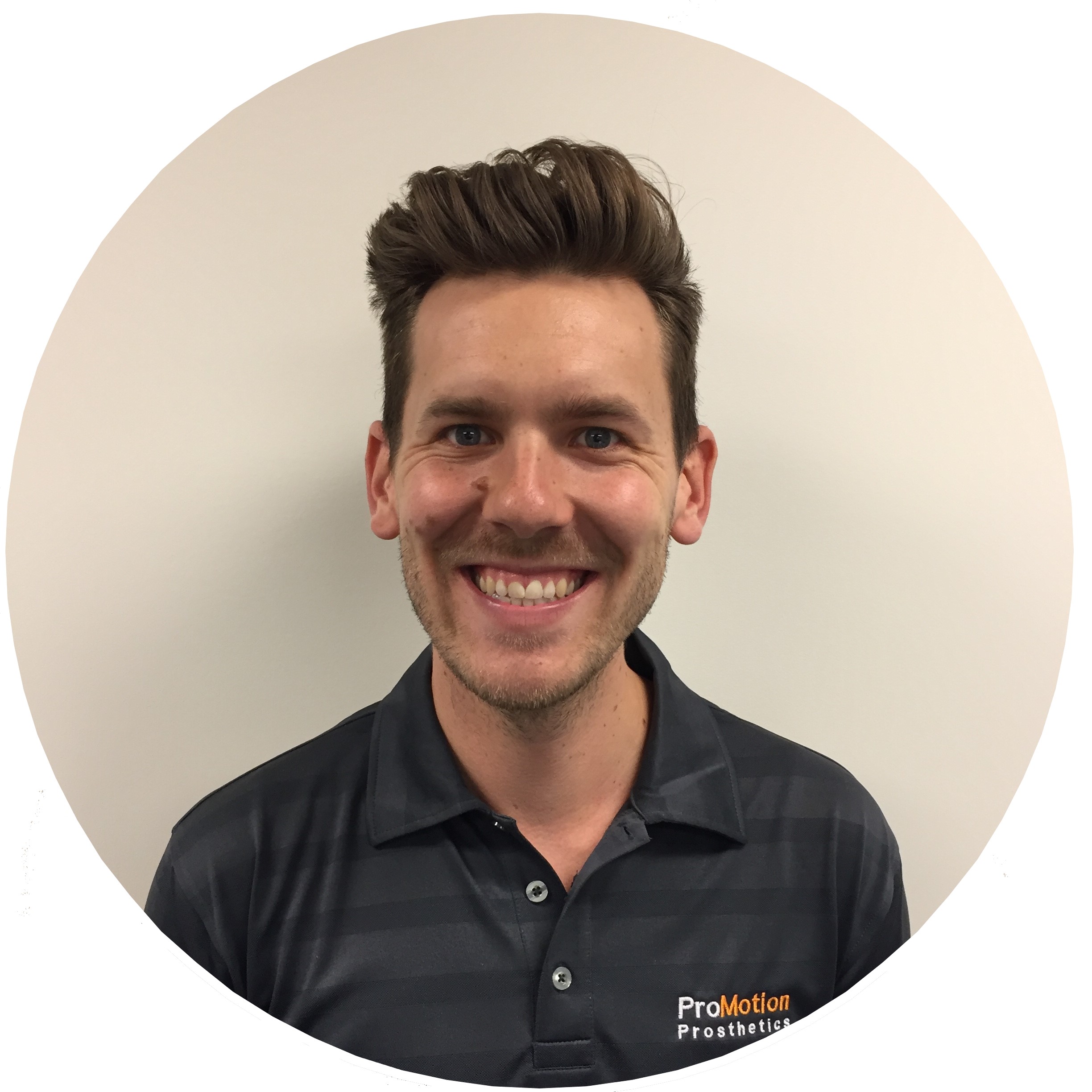 Jake Eadie
Prosthetist, Master Clin P&O, B.Health Sci, B.Industrial Design (Hons)
Jake joined the team at Promotion Prosthetics in September 2019 following five years working as a Prosthetist/Orthotist across the acute, sub-acute and rehabilitation aspects of amputee care in the public health system.
Jake has a passion for creating longstanding professional relationships with his clients in a relaxed and friendly environment. He has a strong emphasis on professional development and strives to remain informed of the latest innovations in prosthetic technologies and techniques so he is able to implement best practice into his daily prosthetic care.
Prior to starting his career in prosthetics, Jake studied industrial design and worked across a range of design projects. Jake draws on these creative and problem solving skills to ensure the best possible outcome from all of his clients. Jake discovered prosthetics as the perfect harmony between technical innovations and working closely with people in a healthcare setting.
Jake is a member of the Australian Orthotic & Prosthetic Association (AOPA).
Kayla Doyle
Prosthetist, Master Clin P&O, B.Health Sci
Kayla joined the team at ProMotion Prosthetics in December 2019 following two years working as a Prosthetist in several regions of Queensland.
Kayla is friendly, thoughtful, and dedicated on making sure her clients feel comfortable and understood. She enjoys working closely with her clients to help achieve the best possible outcome.
With her enthusiastic nature, Kayla aspires to keep up with the latest technology and continue to update her skills. She enjoys all the clinical and technical challenges that comes through the door and likes to bring out her creative touch when in the workshop.
Kayla is excited to be apart of the welcoming, positive and encouraging team at ProMotion Prosthetics.
Kayla is a Member of the Australian Orthotic & Prosthetic Association (AOPA).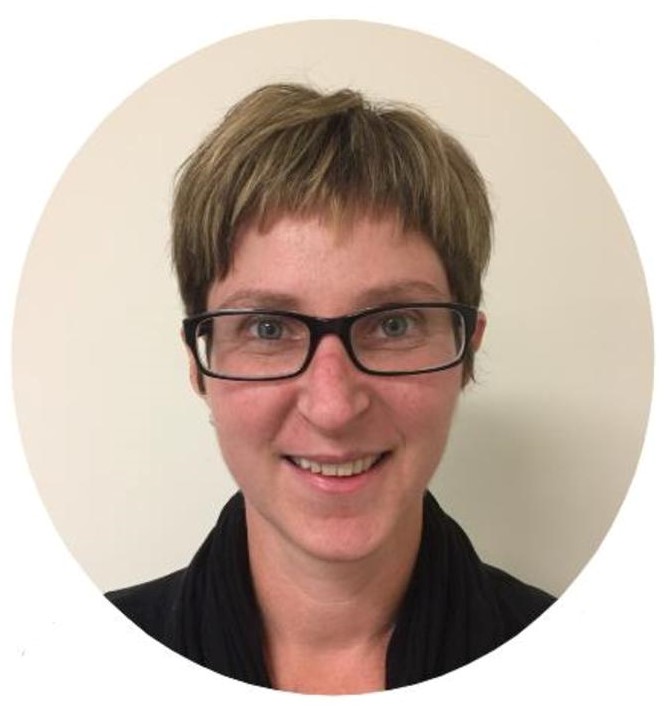 Susan Price
Administrator
Susan commenced working part time at ProMotion in January 2018.
Susan has an extensive administration background with over 15 years' experience.  Susan's role at ProMotion includes management of the patient database, appointments, invoicing, receipting, management of funding requests and liaising with insurance organisations.
Susan enjoys working with the clients and the team at ProMotion and is committed to providing a high standard of care.
Siobhan Fredin
Administrator
Siobhan joined the ProMotion team in August 2019 working part time as an Administrator.
Siobhan has a background in Film and Visual Effects but in more recent years has enjoyed working in customer service and administration.
Siobhan enjoys the patient focus and team environment within ProMotion, reflecting her compassionate, friendly and organised nature.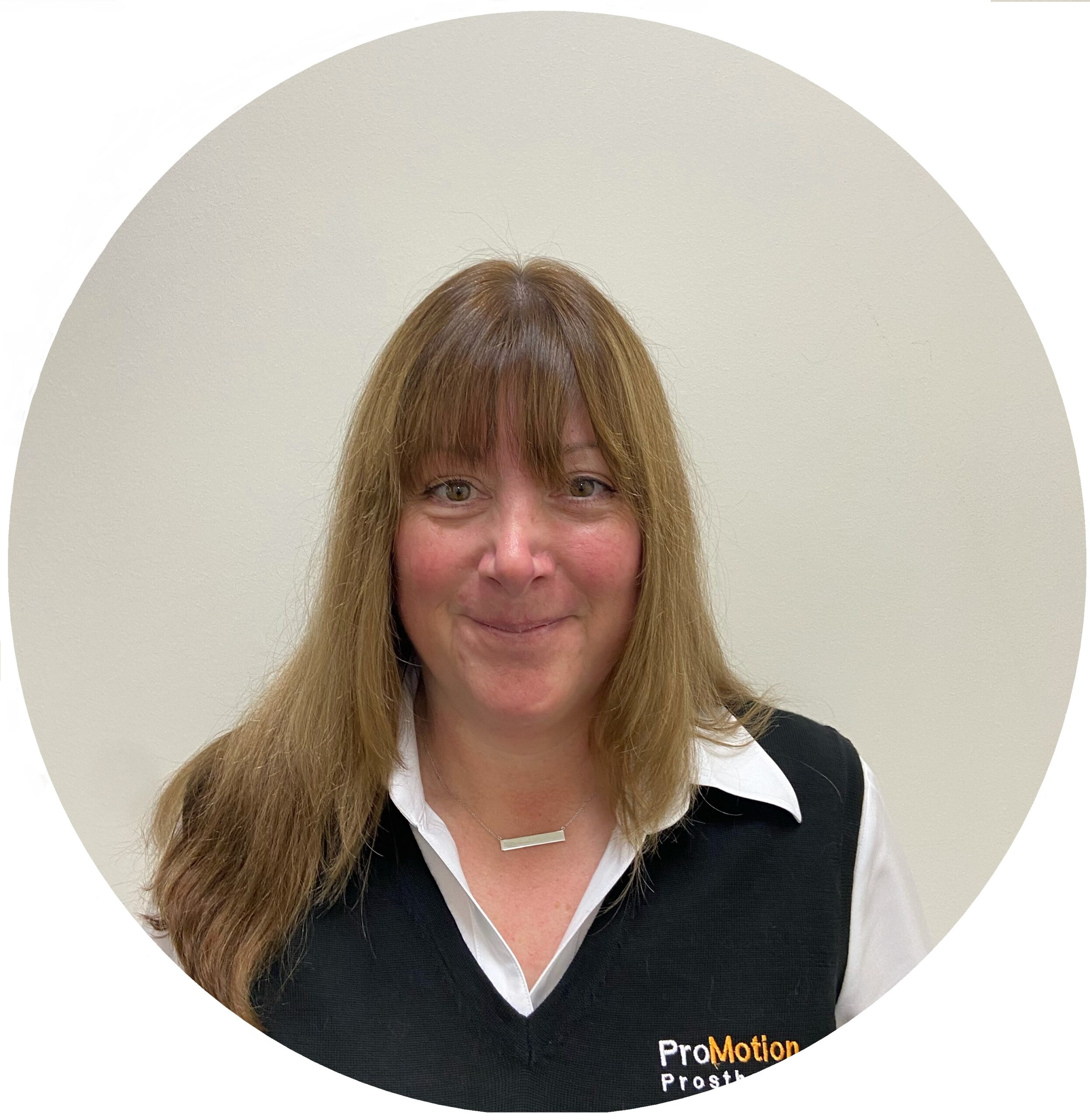 Jacquelyn Kinman
Administrator
Jacquie joined the Administration Team at ProMotion Prosthetics part time in March 2020. Jacquie has a Cert IV in Health Administration which adds to her background in working in the health industry as well as a history of administration & accounts.
With a friendly and caring nature, Jacquie enjoys working in the team focused approach to client care that ProMotion Prosthetics value.
Natalie Smith
Prosthetic Technician, Technical Methods in Prosthetics & Orthotics BSc. Biochemistry
Natalie joined the ProMotion team in December 2018, after graduating from the Technical Methods in Prosthetics and Orthotics program at George Brown College, Ontario Canada.  She gained her prosthetics experience in Barrie, Ontario and orthotics experience Halifax, Nova Scotia.
Her dedication to this profession is evident in her work ethic,  enthusiasm, attention to detail, and ensuring clients needs are met without hesitation. She enjoys thinking outside of the box, finding creative solutions for all devices, and constantly improving her techniques. 
Natalie enjoys the friendly and encouraging atmosphere at ProMotion Prosthetics, and continues to develop her skills through the various prosthetic materials, and keeping current with the latest innovations in the field.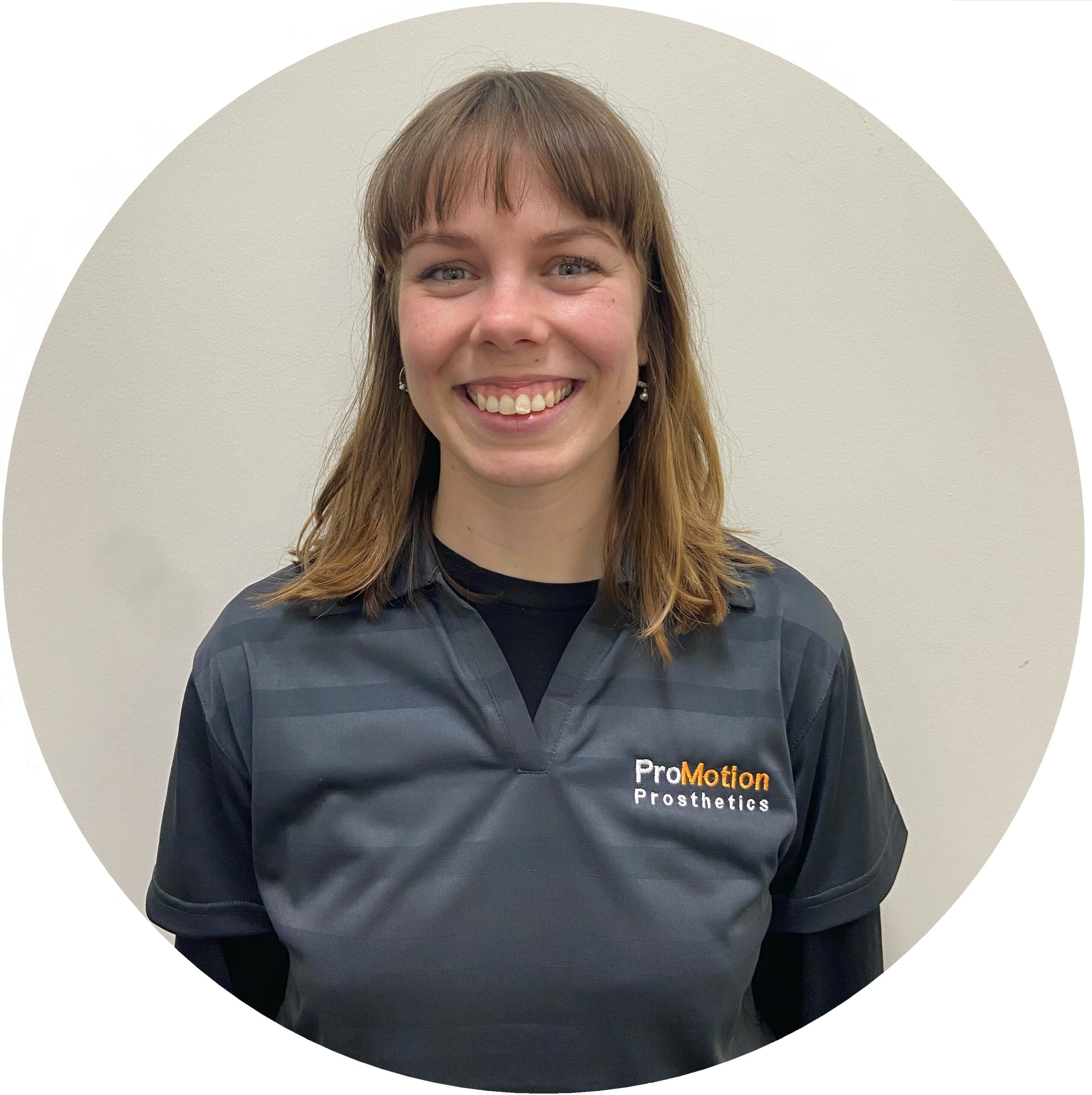 Coralee Hall
Prosthetic Technician
Coralee is a designer/maker with a background in film, theatre and puppetry.  She joined the ProMotion Prosthetics team in April 2021, and brings with her a broad understanding of different materials, technical techniques and fabrication processes.
Coralee enjoys working with her hands, problem solving, and creative collaboration. She strives to create work with a high level of precision and attention to detail.
Coralee enjoys being part of ProMotion Prosthetics as it allows her to work with new materials and expand her fabrication skill set, as well as use her skills to help people and do meaningful work.